New HQ sign sets off the home of Warral Maldon
Have a drive down by 35 Boundary Road, Maldon and you'll see the capstone of our rebrand in the form of a stunning new sign on the side of our headquarters. You'll also likely find Lindsay standing out the front staring at it proudly! Hand crafted by our very own Darren with laser cut lettering and over 600 individual pins for the beautiful contour detail in the middle logo, the treated metal means it'll get a great natural rust look before too long. The sign accompanies our existing bee sculpture by longtime Warral friend Miran Vesel, a local metalwork artist. Together, they make a stunning capstone to our world-class facilities, making our HQ truly feel like home for the new Warral Maldon.
Warral Maldon brand rollout continues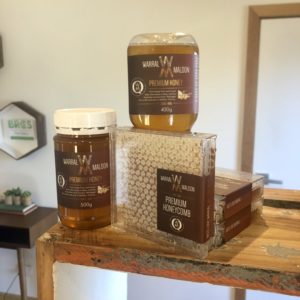 The new brand is gradually being rolled out to every corner of our business; most recently we're pleased to see new cartons and labels for our 400g, 500g, 1kg and 3kg varieties, while our honeycomb is looking fantastic.
Our sample honey pot, the first product with the new labelling, has been a popular addition to the tearooms, butchers and shops in Maldon and surrounds. For our existing customers, keep an eye out for new specification sheets and other documentation with a new look and updated information. You may even see our staff decked out in our new uniforms sporting the new logo.
There are a few larger and even more exciting developments on the horizon, including a new website, even more new products (including some beautiful pure beeswax candles), as well as a gift shop – and that's only the beginning. Stay tuned!
Acknowledging the challenges of COVID-19
Like all businesses and communities, we are navigating our way though what is a tough time for everyone. To all our customers, suppliers, family, friends and the farmers on whose land we place our bees, I wish you well and thank you for your support and resilience through a certainly memorable 2020.
Warral Maldon is lucky enough to be considered an essential service as we produce food and provide pollination services for the food chain, but COVID-19 has presented a unique challenge nonetheless; so
thank you in particular to the team for supporting each other through these tough times.
Budding good news: It's pollination time
The period just before honey season can also be called pollination season. It's when key crops like almonds, canola and apples flower, leaving a relatively small window for pollination to occur. Our client is one of the largest almond growers in Australia and as almonds are completely reliant on bees for pollination, it's a vital part to get right.
Our 'love is in the air' pollination service saw our team working hard to transport hundreds of hives across many hectares of almond groves, before being moved on to canola crops that flower a little later. There's a science (and an art) to the placement and management of hives around crops of this size, as specific spacing and hive-to-hectare ratios need to be followed to achieve the best results.
As Warral Maldon is an apiary operation big enough for large-scale pollination works, Lindsay was also asked to lead a training session for our client's staff on the process behind pollinating such a huge quantity of almond groves. What we do goes beyond simply helping our bees make honey and it's great to further the standing of the industry and lend our expertise in this way.
Expanding our staff: bee lovers wanted
If you love bees as much as we do, we want to hear from you. W
e're looking for apiarists to join our team and get their hands dirty taking Warral Maldon to the next le
vel as one of Australia's leading apiary businesses.
Our new team members will have their truck, forklift and front-end loader license, be flexible problem-solvers and join us in our sites across Victoria maintaining our hives and equipment. Beekeeping experience not necessary, but the right attitude is. If this sounds like you or someone you know, send through your CV to us at warral@warralhoney.com.au.
Warral Maldon sponsors local photography competition
Warral Maldon is proud to support our local burgeoning photographers by sponsoring the first Maldon Captured photography competition. Hosted by Maldon Eat Drink Events inc., professionals and amateurs, locals and visitors can submit their images of Maldon and surrounds across four categories. Submissions close on 31 January 2021 and for all the details, head to maldonphotographycompetition. com.au and don't forget to follow the entries on Instagram at @maldon_captured.
Australia's beekeeping after the bushfires
There's no doubt 2020 has been a wild year, and while COVID-19 has been at the top of our worries recently, the aftermath of last summer's bushfires has been no less real for those communities and industries affected.
This is true for Australia's beekeepers, many of whom put themselves at risk by moving hives in the affected areas; luck was on our side at Warral Maldon, but many of our colleagues weren't so fortunate. In the short term, the loss of so many hives themselves is a tragedy, but the real long term issue is the damage done to the environment, as so much of the rich fauna that allow our bees do what they do best was lost. As custodians of the land, beekeepers need to focus on managing the environment so we can be resilient in the face of future bushfires.