Warral Maldon is built on one family's love of bees and everything they do, from producing their beautiful golden beeswax to vital pollination work for Australia's agriculture, and of course creating the highest quality, most delicious honey with a little help from our passionate apiarists.
Owned and operated by fifth generation beekeeper Lindsay Callaway, who has been a part of his family's labour of love for over 27 years, Warral Maldon is run by an experienced team of dedicated staff in Maldon, Victoria, where 2,600+ hives produce over 150 tonnes of honey and 2,000kg of beeswax each year.
After deploying our hives to pollinate key almond orchards, canola crops and more, September to May is honey season where our apiarists bring our bees to forage on the best honey flows throughout Victoria and southern NSW, focussing on the best yellow box, grey box, red stringybark and ironbark flora varieties. Managing hives especially on this scale is both an art and a science, carefully managed to produce the best results and keep the bees healthy, with queens that are reared under controlled conditions for hives that are hygienic, happy and healthy.
 "I grew up in the bee industry. I love bees, and they love me - most times. Maybe a little sting here and there. But I don't take it personally.
Since 1896 and five generations on, bees have loved Warral. And we love bees. I inherited my love of bees from my Dad, Roger.
For generations, most people had little knowledge or even cared about where honey came from, how it was collected, processed and packaged. Most people had a distant view of beekeeping generally. But in the last ten years, the awareness and role of bees have heightened enormously.
So now there's a lot of interest in bees, saving bees, how we need bees for one third of our crops, need bees to pollinate. And, of course, for yummy honey."

Owner, Managing director.
Our history: 125 years and five generations of apiculture
It all started with a book on beekeeping
It was the early 1890s when an Edward Teague Penglase sent for a book on beekeeping called "ABC XYZ in Bee Culture" from America. It cost 30 pence - a small price to pay for igniting a lifetime's worth of passion in apiculture that is now passed down across five generations.
Edward had a permanent apiary at Fernbank in Gippsland, setting up his young family there as well. He and his bees survived one of the worst droughts on record for that time, as we know from this letter that gives a small insight into life back then.
Mary Penglase with a young Roger Callaway, 1940s.
Expanding with the next generation
His son, Edward Teague Penglase Jnr, continued the apiary business with a great deal of success, combining a love of bees from his father and an entrepreneurial spirit that has continued down the family line.
E.T. Penglase Jnr started seeking high quality honey flows far from his Gippsland home, and so became one of the first apiarists in Australia to move hives using the country's burgeoning rail network.
The Callaways join the family business
E.T. Penglase Jnr's daughter, Edna Penglase, married Howard Callaway, who together continued the beekeeping tradition.
Howard worked some distant honey flows through the 1940s and 1950s, trucking hives to spotted gum on the south coast, river red gum on the Murray River, ironbark and grey box around Bendigo, and discovered a fantastic flow that lasted months at Elmhurst.
Howard and Edna were based in Bairnsdale and raised three children: Roger, Norm and Anne.
Roger at Bemm River, Gippsland, early 1960s.
The birth of Warral Honey
Until now, the business was simply referred to as the family name Callaway, but that was all set to change when Roger and his new wife Edna took over. In 1967 the couple travelled to Canberra for their honeymoon, and a trip to the National Library led them to a book called "Aboriginal Place Names and Their Meanings", which indicated 'warral' meant honey or honeybee.
We believe the language this book failed to cite is Gamilaraay, from the region around Tamworth, NSW in which 'warrul' means worker bee, bee's nest or honey.
Still, the newlyweds loved the name and Warral Honey was born.
Cementing Warral in the Australian apiary industry
Roger's love of bees was innate, building up his own hives in the 60s and buying his father Howard's in 1967. When he took on this new strong collection of hives, he took them to red stringybark in north east Victoria, enjoying a great honey flow that kickstarted a successful 40 year career in beekeeping.
Roger was a true pioneer in the family, being one of the early apiarists in Australia to use forklifts, he was a founding executive member of the Bendigo Branch of the Victorian Apiarists Association and took an entrepreneurial approach to marketing his honey.
In the late 1960s, Roger and Edna moved the business to Myers Flat, Victoria, where they raised their two children, Narelle and Lindsay.
Roger saw this as a central location to a good variety of beekeeping country.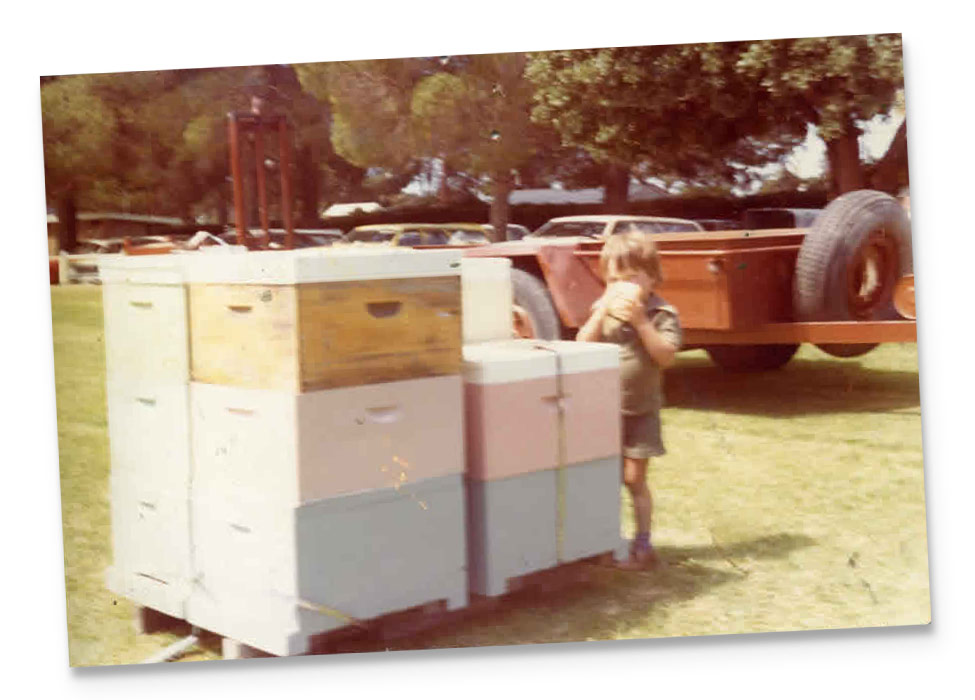 Lindsay at Adelaide Apimondia, 1977.
Bringing Warral into the 21st century
Roger and Edna's son, Lindsay Callaway inherited his father's love of bees and in 1992, joined the beekeeping business, becoming a partner when Edna retired in 1997.
In 2007, Roger also retired and the business is now owned and operated by Lindsay.
While Roger was a pioneer in the industry in his own right, Lindsay is building upon them even further, including in 2004, developing a fully insulated, air conditioned curtainsider on the truck to shift bees - the first of its kind in Australia.
He is constantly on the hunt for the best when it comes to everything for the business, from hive production, equipment standards and biosecurity, to honey and beeswax processing, queen bee breeding and research and quality standards.
Making a home with Warral Maldon
Warral Honey moved in October 2013 to a new purpose-built facility designed and built by Lindsay encompassing everything he needed for large-scale honey production and packaging - all located in the beautiful historical township of Maldon, Victoria.
Lindsay is very focussed on the beehives themselves being the centrepiece on which Warral is based on, and with a view to rapidly expand the capabilities of the business he undertook a brand refresh in 2019, taking on the mantle of Warral Maldon. This paid homage to the providence of their honey now in Maldon, while establishing the business as encompassing more than just honey - including extensive pollination and retail operations you see today.
Lindsay with Joy and Teague.
Lindsay's two children Joy and Teague have certainly inherited their family's love of all things bees. They are both currently in the later years of their education, with Joy at university studying French and history, while Teague (named after his great-great and great-great-great granddads) is completing VCE with an interest in carpentry and outdoor education.